We do not currently have any events planned. 
Learn more below about our past events, including the recent IIE PEER Forum 2021. 
Past Event - 2021 Forum
On March 23-25, 2021, IIE PEER held its second Forum focusing on the future of higher education. This three day virtual event focused on three global regions: the Americas and Europe, the Middle East and Africa, and Asia Pacific. We welcomed speakers from New York University and the Catalyst Foundation for Universal Education, Rhodes House and Rhodes Trust, Syrian Youth Assembly, University of the People, DAAD, UNHCR, the University of Auckland, Western Sydney University, and TeacherFOCUS Myanmar.
Full recordings of the Forum are available on our YouTube channel below. 
Past Event - 2019 Forum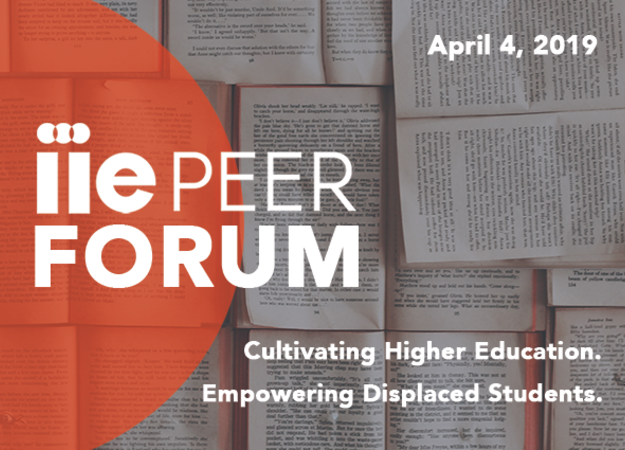 IIE PEER Forum 2019
On April 4, 2019, IIE PEER held it's first annual Forum gathering displaced persons, higher education professionals, and experts in the field of higher education in emergencies. The Forum highlighted university advising programs, building ethical scholarships, creating successful partnerships, and building effective communications strategies. Special featured speakers included Ekhlas Ahmed, a formerly displaced activist and education from Sudan; George Rupp, President Emeritus at the International Rescue Committee, Columbia University, and Rice University; and John Sexton, President Emeritus at New York University. 
If you missed the event, find below the important lessons learned during the Forum! 
Past Event - 2019 Workshop
IIE PEER Workshop - Asia Pacific
IIE PEER's Program for Refugee Educational Placement (PREP) held an Asia Pacific focused workshop in Ho Chi Minh City, Vietnam on September 19, 2019. This one-day event focused on successful pathway to higher education access for refugees and displaced persons across Asia. Speakers included: Nant Smile Lin Htut and Naw Ngee Yee Win, displaced students studying at Western Sydney University; Mimi Zarina Azmin, Head of Education at UNHCR Malaysia; Darren Hertz, Thailand Country Director at International Rescue Committee (IRC); and Thomas Brittner, Director Higher Education at Child's Dream.