The Institute of International Education's Platform for Education in Emergencies Response (IIE PEER) is pleased to invite you to our first Asia-Pacific workshop on September 19, 2019 in Ho Chi Minh City.
The event will be held at the University of Economics Ho Chi Minh City - Room A103 | 59C Nguyen Dinh Chieu, District 3, Ho Chi Minh City, Vietnam
As we work to promote university accessibility for displaced and refugee students, engage with leaders in the field on how to best impact the region's displacement crisis.
See the full schedule of events below!
For questions, please reach out to Benjarat Noppornprom bnoppornprom@iie.org.
---
Space to the workshop is limited. We encourage you to register for the event as soon as possible to secure a spot.
Price of this ticket is $25 and will be provided as donation to an institution that has pledged support to displaced students. 
Please ensure that you will be able to attend before registering as the cost is non-refundable. 
Schedule of Events
| | |
| --- | --- |
| 8:30-9:00 | Registration and Breakfast |
| 9:00-9:15 | Welcome & Opening Remarks |
| 9:15-9:45 | Keynote Address |
| 9:45-10:00 | Coffee and Networking Break |
| 10:00-11:00 | Setting the Stage: Contextualizing the Refugee Crisis in Asia-Pacific |
| 11:00-12:00 | Partnerships: How can we build effective partnerships between universities, NGOs, and funding organizations? |
| 12:00-1:30 | Lunch and Networking Break  |
| 1:30-2:30 | Scholarships: How can we increase scholarship opportunities, better leverage resources, and maximize impact?  |
| 2:30-3:00 | Coffee Break |
| 3:00-4:00 | Admission & Qualifications: How can we reduce the barrier to enrollment? |
| 4:00-4:30 | Closing Keynote |
| 4:30-6:00 | Networking Reception |
Past Events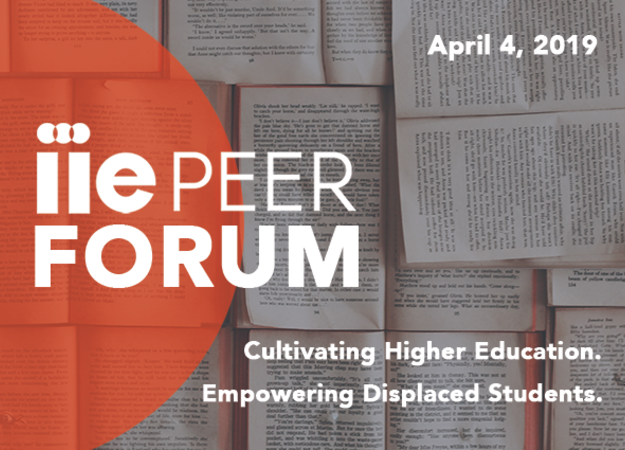 IIE PEER Forum 2019
On April 4, 2019, IIE PEER held it's first annual Forum gathering displaced persons, higher education professionals, and experts in the field of higher education in emergencies. The Forum highlighted university advising programs, building ethical scholarships, creating successful partnerships, and building effective communications strategies. Special featured speakers included Ekhlas Ahmed, a formerly displaced activist and education from Sudan; George Rupp, President Emeritus at the International Rescue Committee, Columbia University, and Rice University; and John Sexton, President Emeritus at New York University. 
If you missed the event, find below the important lessons learned during the Forum!